Alaska Coastal-Ellis PBY Fleet

REG N4760C

S/N 1547

BuAer #

33993 Navy

44-43847 USAAF


Type

28-5-ACF

Steward-Davis Super Cat

History

US Air Force

BuAer 44-43847 - Navy BuAer not taken up

1954-1962    Alaska Coastal Airlines/ Juneau, Ak.           

1962-1968    Alaska Coastal-Ellis Airlines/ Ketchikan, Ak

1968-1970    Alaska Airlines/ Ketchikan, Ak.                     

1972             Stan Burnstein/ Tulsa, Ok.

1974-1984    Lee Maples-Maples Aviation/ Geoterrex/ Vichy, Mo.

1982-1985    Terra Surveys/ Ottowa, Ontario Crashed Lynn, Wi. March 22, 1983 See Below

1987-            Military Aircraft Restoration Corp./ Chino, Ca.

1987-200?    McChord Air Force Museum/ Lakewood, Wa. Desplayed as OA-10-434033   On 22 March 1983 she had to make an wheels-up landing in an open field at Lynn near Melsville, South East of Granton, Wisconsin. Fortunately none of the five crew were injured. In 1987 she was moved to McChord AFB where she is being restored to static condition with a nose turret and the normal conventional rudder and blisters.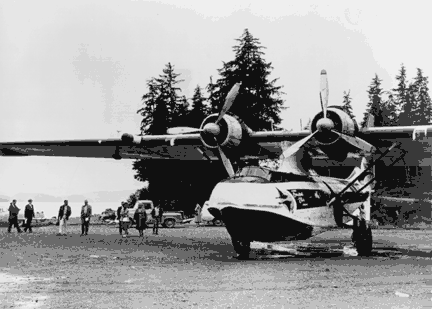 In Alaska Coastal-Ellis Livery circa 1963 at Sitka, Alaska's  Turnaround

Oliver Middaugh Collection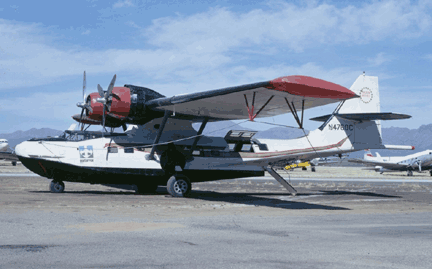 In Geoterrex Livery Circa 1972   John P. Stewart Photo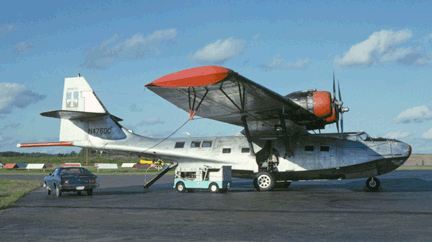 In Geoterrex Livery Circa 1978   John P. Stewart Photo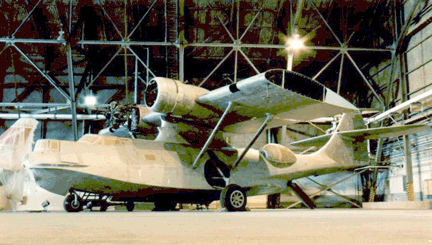 Under restoration McChord AF Base  Circa 1999

Mark Aldrich Photo