Alaska Coastal-Ellis PBY Fleet

Reg N4936V

S/N 1705                                                                                   BuAer # 48343

                                            Type PBY-5A   W/ Waist Hatch

1950's  Ellis Air Lines/ Ketchikan, Ak.

1962-1964  Alaska Coastal-Ellis Airlines/ Ketchikan, Ak

  On October 2nd, 1964, an Alaska Coastal-Ellis Airlines Catalina, N4936V, operating as a charter cargo flight, crashed at Otter Lake. Otter Lake is one of a series of naturally joined lakes known as Goulding Lakes.  It was on a freight hauling run to bring supplies from Sitka to build a US Forest Service cabin that was being constructed on the shore of the lake.

    There was only the crew on board. The flight attendant was killed (the flight attendant on a PBY was part of the flight crew, and did such things as loading and unloading freight and mail, and checking manually to see if the landing gear was in the proper position for takeoff and landing.)

    The plane crashed while making a glassy water landing.The plane made a normal approach and bounced or porpoised twice on landing. The third contact with the water was nose low, and the plane decelerated with enough force that there was structural failure of the nose section, and the wing and engines separated from the hull at the pylon. The remains of the plane sank in water about 300 feet deep, and have not been recovered. The wreck is still there.

    The flight attendant, Wayne Winningham, could not be found after the crash and is presumed to have gone down trapped inside the wreckage.The pilot and co-pilot escaped from the wreckage, and survived by holding on to lumber that had been carried by the plane and was floating nearby. They were both injured, one seriously and one minor. They were rescued and flown to a hospital in Juneau for treatment.

                        Details courtesy of Duane McEwan/ Juneau, Ak.

                                                                        2006 Up-date;

The wreck has been located with sonar soundings and is resting nose-down approximately 200 feet below. more details to come.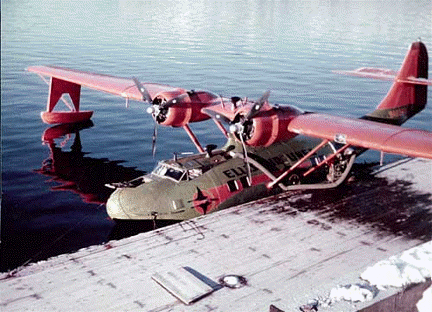 N4936V in former Ellis Air Lines livery in Ketchikan

Circa Winter 1950    Ellis Air Lines Photo